OPENING of S4
mystifying project of the gala opening of new Slovak center for contemporary dance in Bratislava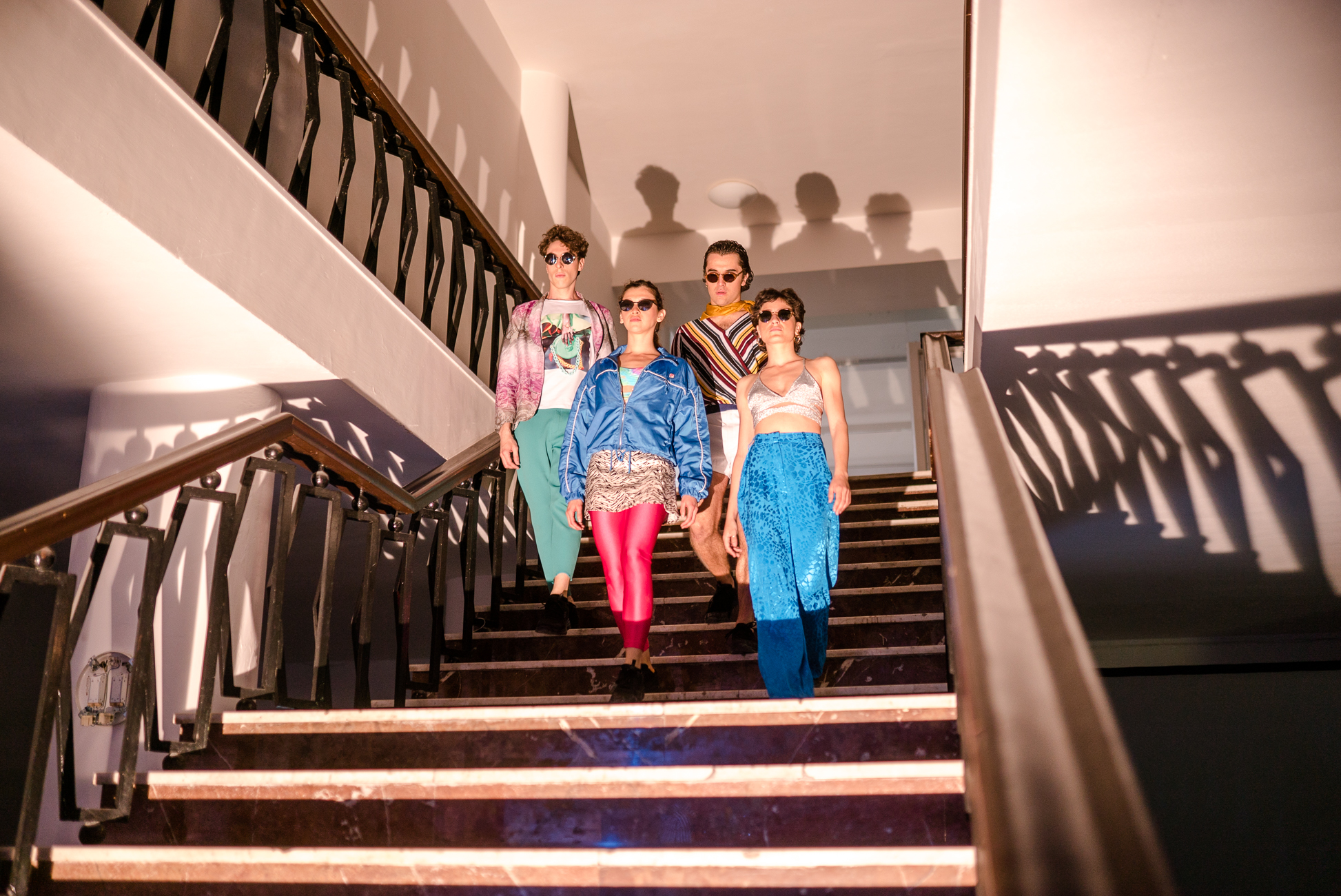 photo Šimon Lupták
Concept, direction, choreography: Petra Fornayová
Dancers: Enzina Capelli / IT, Rafael Candela / IT, Andreyna Paula de la Soledad Ordaz Carias / VEN, Pablo Ezequiel Rizzo / ARG
Performers: Jen Kratochvíl, Petra Fornayová, Michal Spielmann
Scene: Matej Gavula
Additional information: Adam Hanuljak, Ivo Miko
Video material editing: Adam Hanuljak
Research of materials: Monika Čertezni, Dominika Horváthová, Adam Nagy
Production: Martina Kotláriková, Kristína Petrová, Vlado Zboroň, Peter Šulej
PR: Eva Vozárová
S4 is the world's first contemporary dance center located exclusively on the stairs. Kunsthalle Bratislava. S4 are the four iconic staircases of the Kunsthalle Bratislava. The two smaller, upper ones are the so-called a small hall, intended for smaller productions, the two lower ones are a large hall. The space is undoubtedly a challenge, but dancers in Slovakia are used to different conditions and dancing on the stairs will not be an obstacle. Creators from Slovakia who have been working abroad for a long time will certainly like to come here to present their works.
S4 also expresses the connection with the iconic A4ka - the center for contemporary art, we are also referring to S1 in Žilina, to S2, which unfortunately no longer exists, or to Bratislava's S12/Studio 12, as these are all places where we can meet contemporary dance.
S4 – center for contemporary dance in Bratislava and what was before
Almost exactly 25 years ago, the first proposal for the Center for Contemporary Dance was created. It took place on the grounds of the then newly founded Contemporary Dance Association, which was created on the initiative of dancers, choreographers, teachers, and students of contemporary dance. A few years ago, already on the grounds of today's umbrella organization for contemporary dance, PlaSTu - Platforms for contemporary dance, a proposal for the creation of the National Choreographic Center was created. However, none of the proposals met with the interest of the competent ministry or other institutions. During these 25 years, however, there were many activities and several spaces in Bratislava that were more or less close to the original ideas - to create a space dedicated to contemporary dance in the center of Slovakia's cultural events, in the capital - where contemporary dance would be presented, taught, documented, where there would be residential and co-production options.
Contemporary dance is one of the most progressive forms of art, it is often free of language barriers, has no significant age restrictions, and can be a great export item of domestic culture. Despite everything, the projects of the Center for Contemporary Dance, the so-called tanzhaus, were never realized and the enormous artistic and human potential remained unused.
Between the Kunsthalle and the so-called There are many parallels to Tanzhaus. Tanzhaus provides administrative and technical service to choreographers and dancers as part of artistic residencies, presents regular performances, organizes educational activities, Tanzhaus does not have a permanent repertoire ensemble, as is the case in classic stone theaters. The selection of artists is the responsibility of the curators / dramaturgs.