SUBJECTIVE FUTURE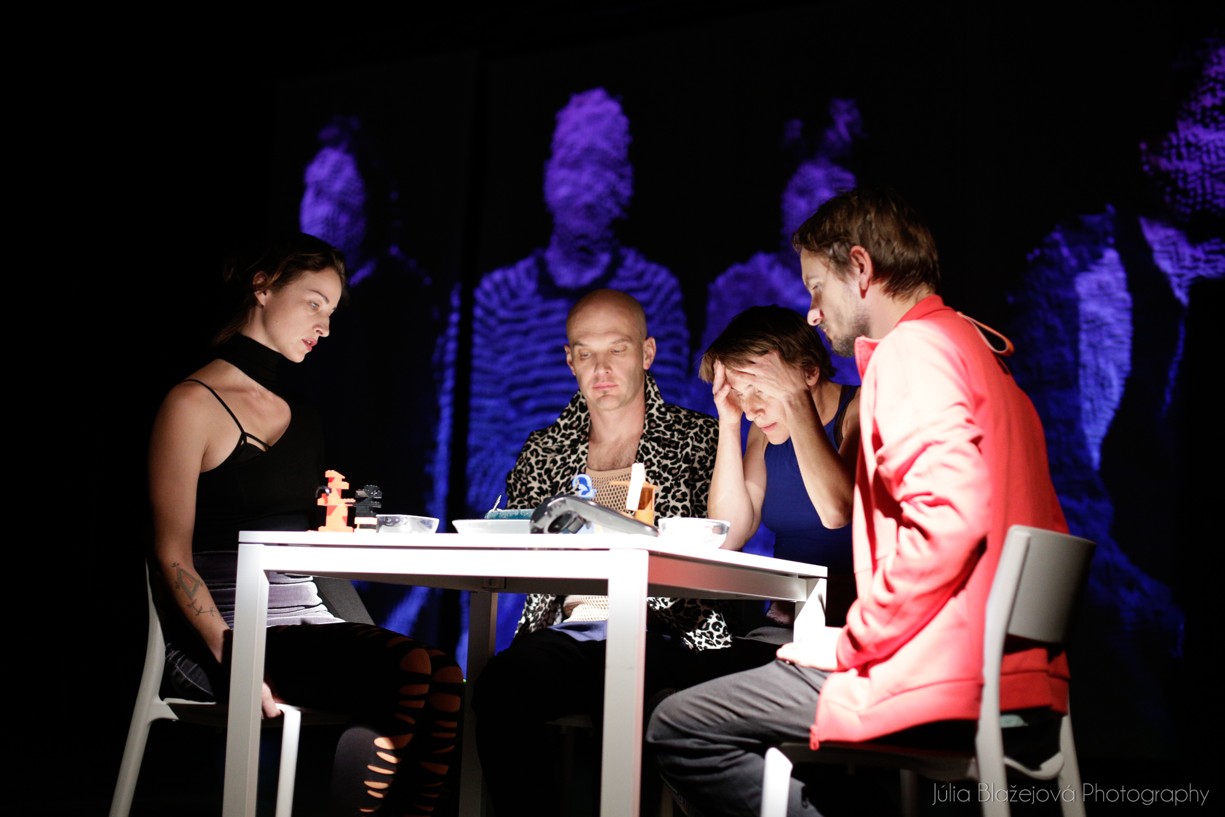 Concept and direction: Petra Fornayová
Creation and interpretation: Adam Hanuljak, Ján Šimko, Natália Okolicsányiová, Petra Fornayová
Visual concept and supervision: Boris Vitázek
Music: Lucia Džubáková - Chuťková
Costumes: Iveta Haasová
Dramaturgy: Peter Šulej
Technical direction and light design: Slavomír Šmálik
Voice-over: Lucia Hurajová
Used texts: Peter Šulej_Coming-Leaving, Jean Améry_About Aging_Revolte and Resignation, Alex Williams and Nick Srnicek_ Manifest of Accelerationism, Paul Verhaeghe_different texts, Ondrej Štefánik_I Am Paula, personal questionnaires MMPI
Duration of the performance: 55 min
Production: AST
Premiere: May 17, 2017, A4 Theatre, Bratislava
Reprises: New Drama festival 2018, Theatre Night Festival Nitra 2017, Festival Hala 2017, A4 Wave Live Festival 2017, A4 2018, Prague Studio Alta 2018, Kiosk Festival 2018, etc.
Support: Performance was supported from public funds by the Slovak Arts Council and International Visegrad Fund in the frame of the artistic residency VARP in Alta Studio Prague
Thanks for the support to Adrianna Bobowska, Uršula Kovalyk, Bez domova / Without Home Theatre, Alena Petrželková and Centre of Social Services SENIOR&JUNIOR in Bratislava
We create our own images, we perceive our fears and desires. We observe our own possible future.
Subjective Future is a fictitious document.
It is a subjective interpretation of the near or far future of four artists from four different artistic disciplines - dance, theater, visual arts and film documentary - which are simultaneously used as equivalent arts. From the position of the future, we look at the presence that may suddenly appear different
Reviews selection:
One of the most entertaining intellectual performances of the season. It is not just texts, though their computation goes with names like Srnicek or Verhaeghe, but what counts especially is the dramaturgy. play. Working with texts, which are more or less repeated manifestations or attitudes, statements, is like the text itself. System of images and the presence - these are special experiences. Kiosk, Žilina, July 26, 2018
The Director of the Slovak Theater Institute Vladislava Fekete chose the works that are worth seeing: ... We recognize Petra Fornayova as an important part of the Slovak independent performance scene and contemporary dance ... different genres and practices are blended in her work. This is also the case for her latest work, Subjective Future. Four artists - a documentary, a dancer, a visual artist and a theater artist - find themselves in a virtual vision or trap of their own future, ironically overseeing their fate, playing with the presence and ambiguous comments encouraging us to think whether we live our own future. The show, perfectly matched with the use of virtual reality technology, shifts that performance to a spectator who also values ​​the use of modern technologies in theater. Plus 7 days Magazine, Febr 22, 2018
I am pleased to note that there was everything what we could expect from the term "new drama" - including the fatal ending…. It confronts ideas and facts, brings banal and serious themes that are by this moved further, extends and balances them, creates the image of the artist as a conceptual abstract as well as a real person. This production contains so much humor, though cynical, for how much the viewer is ready for. Dária Fojtíková Fehérová, Theater Monitoring in Slovakia, July 25, 2018
The coexistence of the action with the video projection allows the duplication of meanings, which may make the idea to be emphasized or neglected. Also thanks to the merging of actions, production gained the necessary dynamics. Viktória Oroszová, Wave Magazine No. 74, 2018