AFTERNOON OF CULTURE AND SPORT
exterior performative situation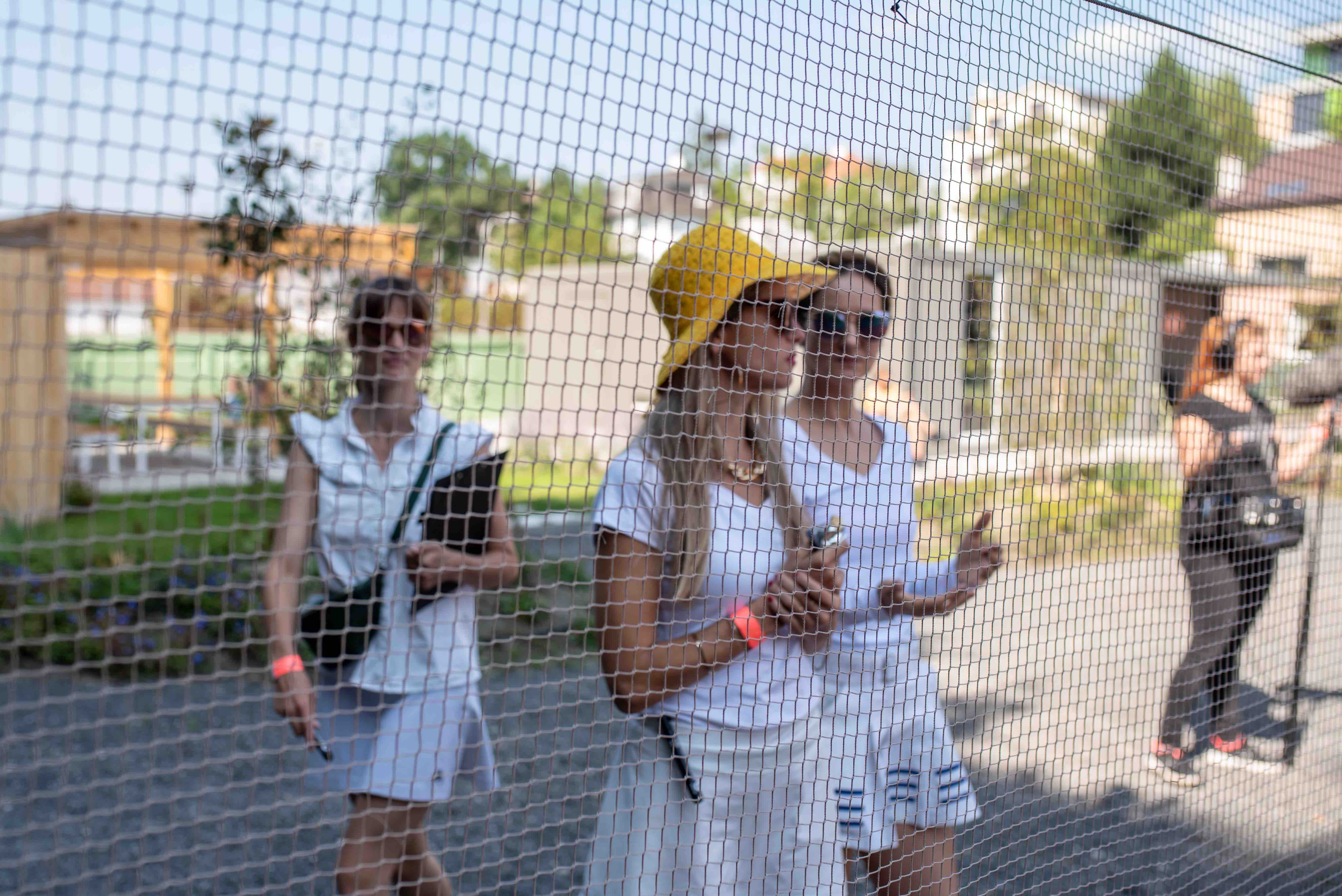 photo Barbora Dolinajová
Premiere 5.9.2021, TK Slovan Patrónka, 11.00 - 19.00
"Theatre seems to have more in common with sports and games than with ritual or play. It should give rise to an exploration of... from a close examination of the ancient Olympic Games, bear chases and cockfights as models of Greek and Elizabethan theatre to modern game theory. As Philip McCoy says, theory of games examines decision making in conflict situations."
Richard Schechner_Performance: theories, practices, rituals
A tournament of drawn doubles.
At a break, a tennis player argues with her coach.
The umpire delivers an ode to clay court.
Someone else an ode to the tennis bag.
Hector and Achiles meet on court 2.
Someone sits at the bar, waiting for grilled vegetables.
The tournament manager is still talking on the phone, importantly.
The tournament director, after a wonderful speech, politically incorrectly attends the matches.
Is tennis or theatre being played?
Apart from this question, the Afternoon of Culture and Sport is a celebration, too.
In 2021, it has been 280 years since the transformation of the salle de jeu de paume, a space designed for real tennis / jeu de paume (ancestor of today's tennis), into one of the first major theatres, the Burgtheater in Vienna. We also celebrate 360 years since the creation of Lincoln's Inn Fields Theatre, a landmark public theatre converted from Lisle's Tennis Court on Portugal Street in London, or 400 years since the biggest boom of salles de jeu de paume transformations to theatres in Paris.
We have put forward an official proposal to declare all tennis clubs as theatrical venues under the remit of the Ministry of Culture, following the tradition of placing cultural centres in gyms - such as A4, or Telo-cvičňa in the Nova Cvernovka Centre in Bratislava.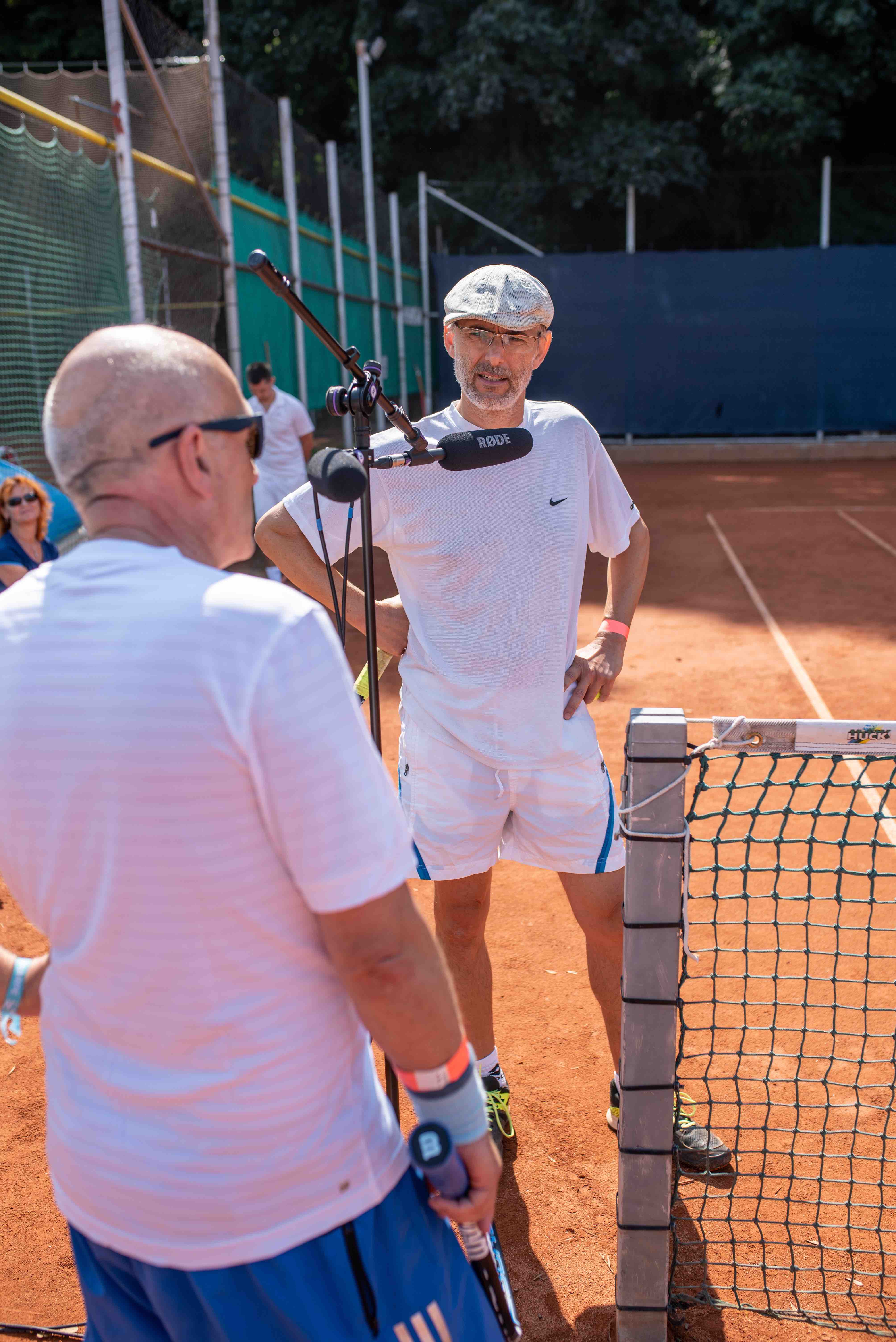 Concept, direction, screenplay, texts: Petra Fornayová
Dramaturgy: Peter Šulej
Actors:
Vlado Zboroň - tournament director
Michal Spielmann - tournament manager
Peter Kadlečík - umpire referee
Gertrud Maria Korpič - umpire and mental coach of tennis player -
Ľubo Burgr - Hector
Vlado Kittler - Achilles
Anna Mária Janeková - tennis player, top 10 WTA
René Schleifer - tennis player, top 50 ATP
Ludvig Bagin - moderator of a tennis studio
Ján Höher - tennis expert
Adam Hanuljak and Klára Jašková - film crew
Lucia Gregorová Stach - curator of the presentation of tennis works by Adamčiak, Havrilla and Koller
Fero Király, Eva Šušková, Peter Mazalán - performers of Satie's songs Tennis, Yachting, Races and Golf
Heidi Šinková, Soňa Ferienčíková, Monika Haasová - technical supervision of the tournament
Marta Poláková - choreography of Laban's chorus (Matúš Szeghö, Soňa Kúdelová, Barbora Janáková)
Tennis players - participants of the 1st year of the Game Play Open draw doubles tennis tournament.
Text sampling is created from author's texts and is also freely inspired by several works: Peter Šulej - Phytopaleontology / Rotations / Nodes, Elfriede Jelinek - A Sports Piece, Laurent Binet - Seventh Language Function, Kamil Zbruž - Saint Macarena
Graphics: Matej Lacko
Author of the tournament award artifact: Martin Piaček
Sound and technical direction: Peter Grábl and coll.
Video recording and editing: Adam Hanuljak and coll.
Production manager: Martina Kotláriková and coll.
PR: Eva Vozarova
Photo recording: Barbora Dolinajová
Production: AST
Thanks for the support of:
The project was supported from public funds by the Fund for the Support of the Arts.
The project was supported by the Bratislava self-governing region - the Bratislava Regional Subsidy Scheme and the Bratislava City Foundation.
The project partner - TK Slovan Patrónka.